Something I have been hearing a lot lately is the value in sharing your story. I always talk about how I want my readers and clients to get to know me through my blog, but that's hard to do when I don't talk about myself or why I do what I do. I've always hesitated to say that I've loved photography since I was a little kid because I see that same spiel on a lot of photographers' websites and I've never wanted to be one of the masses. But hey, it's true and you can't fight that.
My first camera looked like this: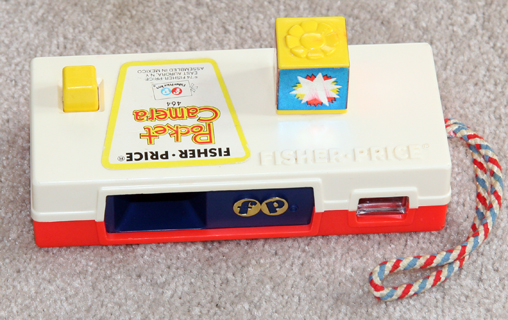 :)
I loved it.
But really. My first REAL camera came when my parents told my brother and I that we were going to Disney World for the first time. Hurrah! We were so excited and that excitement completely multiplied when I was given my new camera for the occasion. I didn't wait for Disney World to start shooting. I burned through a lot of film that summer. I'm sure the developers enjoyed my artsy THROUGH THE GRASS shots of my swing set.
Then came the instant developing Polaraoid type cameras. My parents bought a VHS video camera and eventually I became the person who used it the most. I found that being behind the camera was very freeing. I was so shy and introverted and when you're behind a camera, there's literally a barrier between you and the world. I think that was initially one of the attractions for me. That excuse to people watch and look at things with a feeling of invisibility.
Then came digital point and shoot cameras. Oooh the love. I enjoyed the immediacy of seeing my images as soon as I shot them. And this is when I started getting frustrated by the "auto" setting and started shooting manually. I remember hating using flash even then. I made myself a Scotch tape diffuser to get a softer look (it was remarkably effective and I highly recommend doing the same if you're using a point and shoot!).
It was my junior year of college that I first used a digital SLR. I went to JMU and needed a part time job. It just so happened that Massanutten Ski Resort (about 20 minutes away) needed photographers to capture action shots of the skiers and tubers. So I did that for two years and it was so fun. It probably changed my life. I'm naturally very frugal and I don't know if I would have invested in a SLR camera without having used one and knowing that I would love it so much.
That's my mom. Ha.
But I learned a lot from that job. Not intentionally, but very naturally I started noticing that the photos I was selling the most weren't the cool action shots I was being hired to shoot. It was the photos that I would shoot for my own enjoyment of people AFTER their ride down a hill. Laughing and swapping stories with each other. Helping their kids out of the snow tube. Eagerly dragging their gear toward the lift for another ride. People loved THOSE photos because it was them. The shots of them flying down the hill all bundled up with their big coat, hat, and goggles could be anyone. They all looked kind of the same. It was all the sweet moments of them interacting with their friends and family that people really wanted to remember from their trip.
The same is true of what I do now. Real emotion trumps perfect photo every time.
It was six months after graduating from college that I officially bought myself my first SLR camera. I read about cameras and sales for months because I wasn't making much money then. I was a substitute teacher, writing ehow.com internet articles for $20 each (oh the joy), but for some reason this camera became really important to me. Aside from my car, this was the biggest purchase I had ever made. I woke up in the middle of the night for my first Black Friday experience, dashed into Best Buy, nervously guarded my camera which was locked up inside a glass case until I could flag down a frantic never-working-black-friday-again employee to unlock it for me.
When I got home and had slept a few more hours, I starting shooting anything and everything.
Yes, these are actually all from that day. Yay contrasty picture of Cade!
Black Friday is Christmas decorating day in my family, but I was so distracted that year. I finally had my new camera and had decided the day before that Erik was probably going to propose to me this weekend. VERY DISTRACTING. No really, Erik is horrible at hiding things. It's not in his nature. So I was waiting for that, playing with my new camera, and decorating for my favorite time of the year. He did propose later that night and we used my new camera to document the occasion. Basically, it was the best day ever.
Gosh don't we look excited to be engaged.
It was another year and a half before I even considered starting a photography business. A lot happened in between the many cameras, including this weird stint where I thought I was supposed to have a normal career like everybody else ;) I'll have to share that story later, but it's not as full of rainbows and sunshine as this post, so we'll have to wait for a rainy day for that. I apologize for the epicly long post, but hey, the photography story has been a long one and it still has a ways to go.